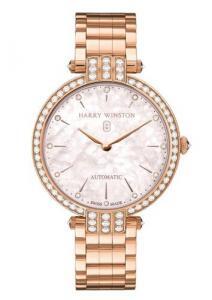 Harry Winston was an immigrant born American, his father came from the Ukraine and he started a small jewelry making business. Harry's father taught him the trade and he not only took over the business, but he mastered it and created a mulch-billion dollar industry that produces some of the highest quality jewelry in the world.
Harry Winston company makes very fine crafted jewels and jewelry. The styles are world famous and many of the worlds most prestigious and affluent people adorn Harry Winston jewelry and time pieces. Harry Winston styles are timeless and they are only getting better. The designers of Harry Winston watches take great care to not only give the most elite, chic looking watches, but they are also very well functioning and they come with many other interesting features.
The price of a Harry Winston watch can range anywhere from 2,000 to 500,000. Many people may feel like paying half a million dollars for a piece of jewelry is ridiculous, but there is sound reason why people that can afford these watches do buy them and they truly find them to be great pieces of jewelry.
The first thing that has to be noted about Harry Winston watches is that they are made with some of the worlds most expensive materials. The stones that are used are not only regular diamonds, but they are some of the most elite, well cut, well designed, unique diamonds in existence. Apart from the stones that are of the highest quality, the Harry Winston watch also comes made with top of the line leather. Many of the straps are made of solid gold, rose gold, platinum, white carat gold and specially cut diamonds.
The thing that makes a Harry Winston watch so unique is that there is a watch for every event. There are beautiful high jewelry watches that are great for black tie events and any other elegant special occasion. There are watches that are made just for under water adventures. These are watches that have been specially fabricated and patented to protect these high end watches for up to 200 feet under water. There is a collection of watches for basically every occasion.
The other reason that makes a Harry Winston watch so unique is its precision and its details. All of the time pieces are made in Geneva Switzerland. Geneva is the world capital of fine watches. All of the watches are made by professionals that are experts in watch precision. All of the watches are made by professionals that love what they do, and they take pride in the high quality time pieces that they create.
It is possible that some people may not understand the reason why people love these high end watches, but in reality many people view them as works of art. When people are truly art lovers, they will travel around the world and spend millions of dollars for works of art that they love. The reason is because they are of great value to them and because they like the artist. The same goes for a timepiece by Harry Winston. They truly are works of art. They are hand crafted and designed by artist that only will give out the most elegant product to their customers.
In this day and age quality is something that quite often gets overlooked. Many people prefer to have something that is quick and cheap. Quite often the things that are not high quality are the things that do not last and are not beautiful. Watches from Harry Winston are very high end, high quality time pieces. They represent the Harry Winston name well. There are many different companies that sell watches, but there are very few watches that have the timeless quality of a Harry Winston.